Release Date: 4/27/18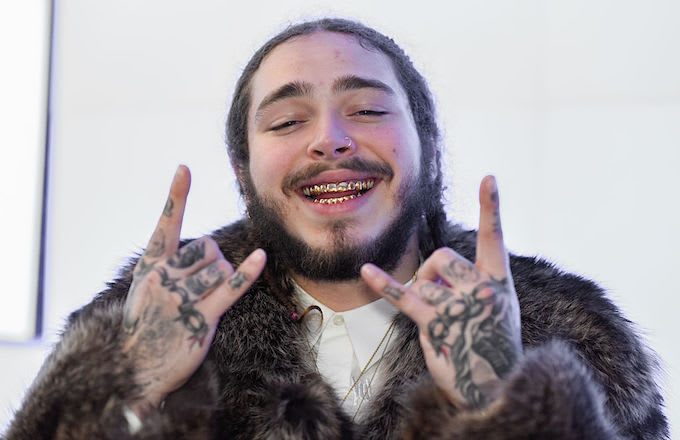 The album starts with one of the albums better tracks "Paranoid". My sole gripe with the track, and every other track, is how clearly Auto-Tuned Malone's voice is. Auto-Tune not used as a vocal effect, but rather, as pitch corrected… the way it was intended to be used. It's just distracting how noticeable it is. The second track sounds like a 2018 rap track – a chill trap beat featuring one half of Rae Sremmurd. It's not revolutionary, not remotely innovative. Like the album: middling stuff, but not bad by any means.
By the third track it becomes pretty clear how this album is going to go. This assumption doesn't prove unfounded. It's track after track of sad-happy; chill trap beats; obviously pitch-corrected vocal melodies (though honestly the tonal qualities of his voice aren't all that bad), and archetypal modern day rap styling's. The very idea of the third track though, "Rich & Sad" seems, I don't know. Strange how trendy it is to be sad in rap nowadays.
One of the stranger and more off-based boasts, Post Malone posits:
All these rappers, all sound the same now
Sayin' I'm to blame, now y'all see me on the TV
Really? This dude's going to take credit for everyone sounding the same because they're copying him? I don't think so dude. This album includes features from several people doing exactly what he's doing, either from before or at exactly the same time as him.
Honestly, the problem with this album isn't that the base-level quality is that low. It's all  fine. There's just a serious lack of variety of mood and sound. Considering this point, it's run time also becomes a serious problem. 64 minutes. Damn man.
The number one thing I got out of listening to this is that I finally have begun to see "rockstar's" appeal. It makes more sense to me in the context of the album. It takes seven tracks to change it up just a little bit, with "Over Now", thanks to the inclusion of live drums. The vibes are still the same though. "Stay" is the next moment that does this. It's not even a rap song at all. It's an acoustic guitar driven pop song, like Jack Johnson or something. Similar vibes again, but surprisingly one of the albums highlights. Definitely a cut above the rest and easily one of the best songs on here.
Finally, towards the end of the album, "Same Bitches" finally brings the party without sounding like everyone attending is depressed. Malone even quotes The Zombies, though I don't know exactly how I feel about that. The "Jonestown (Interlude)" is a neat-sounding pseudo-psychedelic track that changes things up considerably. "92 Explorer" heads back to the vibes of "Same Bitches", keeping it more turned up as well. It's refreshing to hear these slight changes in mood after listening for so long.
Overall, there's not a single great track on here, unfortunately. This is something this album and Post Malone desperately needs too. Overall, I think there's some potential here. Hopefully this dude will put out something truly worthwhile at some point.
Highlights: "rockstar", "Stay", "Same Bitches", "Jonestown (Interlude)"
Rating: 2/5
Purchase: Amazon
Listen: